Medway academy school set for September
Fri 27 July 2012, 12:25 pm
The first of Medway's flagship academy schools has been completed, on time and on budget.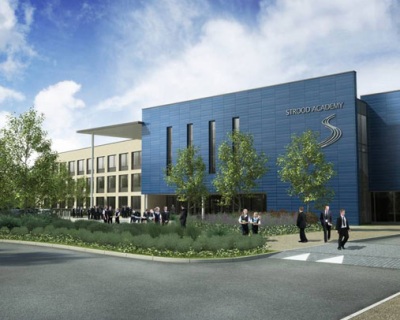 The doors of Strood Academy's old building have closed for the final time as its new £26 million home gets set to open – the first new secondary in Medway for more than 40 years.

Covering more than 14,000 square metres, few would have missed the impressive new structure taking shape on Carnation Road, Strood, over the past 18 months.

Principal Richard Hart, said: "The academy trust is delighted to move into such an inspirational building. The new building will inspire future generations of young people to achieve great things in Strood."

Medway Council's portfolio holder for children's services, Les Wicks, said: "The completion of the academy marks a great milestone for the academy programme and for education in Medway as a whole.

"Strood Academy is already making a real difference to students' learning and progress, and the delivery of the new buildings through Medway Council will enable students to achieve even better."

Sponsored by Medway Council and the University of the Creative Arts, the academy specialises in mathematics, business and enterprise and is the first of Medway's three new academy builds to be completed, with work well under way at the Bishop of Rochester Academy, Chatham, and Brompton Academy, Gillingham, both due to open in September 2013.
Strood Academy's six science laboratories, library and seminar spaces, a sixth form centre, dance and drama studios and eight IT suites are for use by the local community as well as its 1,500 students.

It boasts a 60kW wind turbine – the first at a school in Medway – which will generate up to 17 per cent of the academy's electricity requirements, as well as an all-weather sports pitch, science courtyard and an outside performance area.

The grounds around the building will also be fully landscaped with a wetland study area, garden area, fitness trails, and a wildlife garden.

Building Contractor BAM Construction, on site since February 2011, has now officially handed over the keys to the academy, which will get to work ensuring all the finishing touches and equipment are in place for the new school term in September.

BAM Construction director Rod Stiles said: "It has been a pleasure working with Medway Council and the academy sponsors, staff and students to complete the wonderful new buildings in plenty of time for their move this summer. We are now working on the final phase of the scheme, demolishing the redundant buildings and recycling the materials to form the base for both new hard games courts and a floodlit synthetic turf pitch."